Advent means "coming".
I know that we're already into this a few days, but I really wanted to share with y'all. Advent is one of my favorite times of year and I couldn't let it pass without letting you in on some really great resources.

This season of Advent, we celebrate the first coming of our Lord Jesus and eagerly await the second.
Along with the joy of this season comes the hustle and bustle and the loss of the sacredness of what we yearn to celebrate.
About this time of year, I get an almost physical hunger for God's Word, to connect and dig down deep so that I'm grounded against the crazy ebb and flow of this busy time.
Being the reader that I am, my instinct is to dive into books, so today I'm going to share with you some of the things we're trying as a family, as a couple and just me to make sure we're getting filled up properly.
Hands down our favorite Advent tradition is what our kids affectionately call "The Door Book". Officially, it is The Advent Book by Jack and Kathy Stockman. (you can check it out
here
.) The art work and detail are awe-inspiring and the text is pure Scripture. We got this book very early on in our family's history, so is near and dear to our hearts.

This year, for the first time, we're doing the Jesse tree tradition. I've wanted to do this for a while and just hadn't been able to get it together. We are using two different resources for this family devotion. The first is
Let's Make a Jesse Tree!
by Darcy James. This has patterns to use for the symbols, which you can either sew or make out of paper. My kids are making the paper ones while I am sewing felt ones so that we have them every year. I love that this is something they do with their hands while the reading is going on. This book includes very brief devotions with each pattern, but we're using another resource to do the readings.
The book that we're using for our Advent readings has been on my Amazon wishlist for a couple of years now and I was so excited to get it in the mail. It's called the
Advent Jesse Tree by Dean Lambert Smith.
One of the best things about this book is that it has devotions for kids and adults. I'll admit, it's been a little bit difficult for me because it's not the traditional Christmas story, but it goes over the Old Testament teachings about Jesus. Now that I'm into it, I really like it.
My Hubs and I are reading an Advent devotional after the kids go to bed. This is the first time we've done this and I love reading it together after the house is quiet. (Problem is that usually my eyes are starting to slam shut, but I try really hard to make it through because this book is really good.) We're reading
Good News of Great Joy by John Piper
.
And just to show that it's not only books that we get into, here's a lovely Nativity scene that I've had pinned from Pinterest for ages and just printed out. Why did I wait so long?! This is from
made by joel.
You print it out from your computer. And it's free. Seriously. F-R-E-E. All of my kids are in love it. In fact, I've had to go back and print more out so each one could have one. I even printed out the tiny one so I could keep it in my purse to give my littles something to do with their hands during church. Score.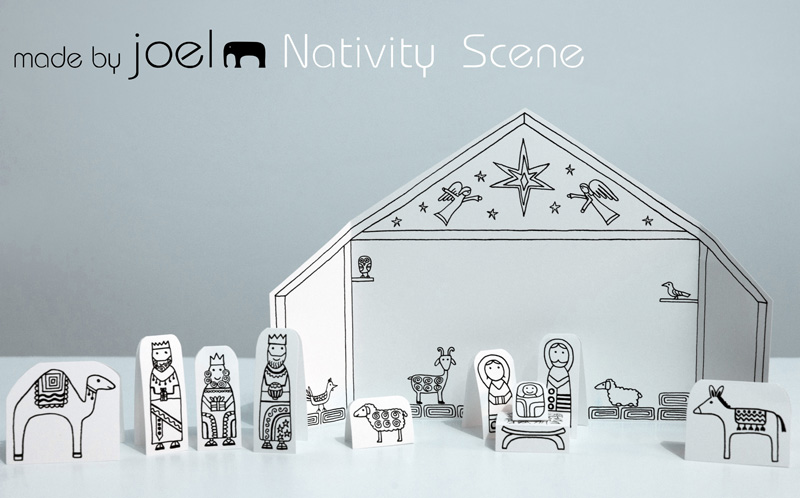 That's what our family is trying out this Advent season.
I'd love to know what you've learned works for you as an individual or as a family. Could you share?