All it took was for my trembling finger to click on the "Pay Now" button. Let the adventure begin.
Shall we back up a moment? At the beginning of this year, I prayed for a
word
, any word, that God would use to define 2012 for me. That word was "ADVENTURE". First, I thought it was this thing, and then that, but nope. That may be what Jamie had in mind, but not God. And then it was the last of April and I was tapping my figurative foot, watching the time pass and saying, "Okay, God, it's April already. One third of the year is gone and no adventure in sight." I looked high and low for adventure wanting to find it, afraid I'd already missed it somehow.
Then it was presented to me on a silver tray. Well, maybe not a silver tray, but a blog post I read.
Are you ready to know what the adventure is? C'mon. You know you do. Say please.
Well, since you asked so very nicely...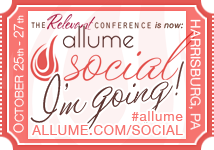 ohmygoshohmygoshohmygoshohmygosh. I can't believe I actually clicked the "Pay Now" button, but click it I did.
I'm excited (so, so excited) about my adventure, but I'm also scared out of my wits. I really, really dislike flying, I've never been to Pennsylvania (or the anywhere further east than Wichita, Kansas) and I will know not a soul there.
Do I really belong there? According to the thoughts rolling through my head at tornado-like speeds, no, not in any way, shape, or form. I'm not a big-time blogger, I'm not the best writer as I favor parentheses, exclamations marks and frequent emotional outbursts way too much, and I'm terrified I won't belong. I don't have a professional-style camera, a laptop, or even business cards with my blog name on them. I have no idea what "branding" is, I don't tweet and I'm petrified I'm going to be way in over my head.
That's how I know I should go. When those self-doubts start rolling around, that's when I know that God has orchestrated this. No, I can't do this on my own power. I would be tucked up in the fetal position under a table cloth in the corner.
This October, I'll be swallowing my fear, jumping on a plane and heading off to explore wild Harrisburg, Pennsylvania. Actually, it will be more like exploring the wilds of the hotel conference center.
Care to
join me
? I will desperately need a friendly and familiar face. Okay, maybe
desperately need
is a little too dramatic, but would it make you feel better if I said, I will need you only a smidgen?
While you're mulling it over, I'll be going through my closet and deciding what to wear. It's never too soon to start packing.