Hi, y'all! If you're coming here from
Permission to Peruse
's Allume Newbie link-up (holy cow, that seems like a mouth full), I'm so glad you're here.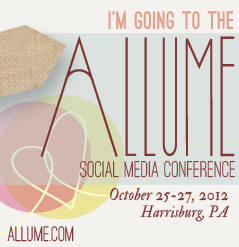 I'm definitely an Allume Newbie and while I'm so, so, soooo excited to go, there are also many butterflies flittering around in my belly.
Let me tell you a little bit about myself, you know, just to get the ball rolling.
I'm Jamie, and I blog here at One Blessed Lady. In preparation for Allume, I updated my "About Me" page right up there, but here I am in a nutshell. Crazy mama of five equally crazy kids. Let's add homeschooling to the crazy. Yup. That's a whole lot of crazy. Beloved wifey to the world's greatest man. No, seriously. Lover of God and people, receiver (and hopefully extender) of grace. Expert at funny faces.
As for why I write, well, I just made another page up there... See it? That will tell you exactly why I write and what you'll find over here in my neck of the woods.
Now, five things I'm kinda sorta freaking out about with Allume. Ready?
1. My personality is sassy, fun loving and sometimes over the top. I'm hoping that my big mouth does not get me into trouble. And that people will actually love that I'm sassy, fun loving and sometimes over the top.
2. I am a nerd, yes, but not in a tech-y geek kind of way. It's more of a former-marching-band-still-march-to-Stars-and-Stripes-Forever-with-my-kids kind of nerd. I'm afraid I'll be in over my head if there's talk about tech-y kind of stuff.
3. No one will want to sit next to me at meals and I'll be so embarrassed forever. For-eh-verrrrrrrrr
4. I'm a mama of five kids. I stay home everyday with five kids. My closet (unlike my Pinterest board) reflects that. What do I find to wear?
5. That my deodorant will fail big time. That my hands will sweat and I'll have major sweat stains, resulting in #3.
Yes, I think that just about covers it.
The big thing for me is, though, that I can go there and then leave knowing that a) I blessed someone and b) there really is a reason that I write and new ways to do that better.
Just two weeks! Squeeeeee! Can't wait.